Board of Directors
Kerry D. Olsen, M.D.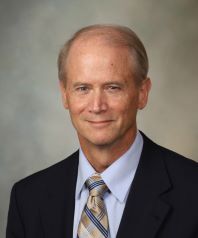 Kerry D. Olsen, M.D. is a named professor at the Mayo Clinic Rochester, Minnesota, the Joseph I and Barbara Ashkins Professor in Surgery.  He is the past chair of the Division of Head and Neck Surgery in the Department of Otolaryngology at Mayo Clinic and former medical director for ten years of the Mayo Clinic Dan Abraham Healthy Living Center.  
He is an emeritus member of Mayo Clinic Board of Governors and Mayo Clinic Board of Trustees having served for sixteen years.  He is former president of Mayo Clinic staff.  Dr. Olsen oversaw for fifteen years the construction and planning of numerous major facility projects at Mayo Clinic including the Gonda project, the largest construction project in Mayo Clinic history, and the Dan Abraham Healthy Living Center.  He is the author of the Mayo Clinic Model of Care.  
Dr. Olsen received a B.A. degree in economics from Northwestern University and the M.D. degree from the first graduating class of Mayo Medical School.  He completed an internship in general surgery and a residency in otolaryngology at Mayo Graduate School of Medicine and facial plastic surgery training at the Massachusetts Eye and Ear Infirmary.  He holds the academic rank of professor of Otolaryngology and Head and Neck Surgery in the Mayo College of Medicine.  He currently is a member of the Division of Medical Otorhinolaryngology – Head and Neck Surgery. 
He has been named Teacher of the Year multiple times and is in the Mayo Fellows Association Teaching Hall of Fame.  He has also been recognized as a Distinguished Mayo Clinician.  He has lectured all around the globe on Head and Neck Oncology, Wellness, and Mayo Clinic Culture and Leadership. 
His publications number over 250 and he has championed surgical approaches for the removal of head and neck tumors that are commonly used today.  He is widely recognized for his surgical practice, which is devoted exclusively to head and neck surgery and was one of the largest head and neck surgical practices in the country.  Working with the Mayo Clinic Entrepreneurship Program he is President of 12 for Health L.L.C.
His greatest source of satisfaction is his family, a wonderful wife, four married children, and eleven grandchildren.  Dr. Olsen is often found enjoying outdoor activities at his second home in Hood River, Oregon, exercising regularly, or traveling on adventurous outdoor trips around the globe.